In August of 2009, when Premier WEN Jiabao was inspecting Wuxi Hi-Tech Micro nano Sensing Net R&D Center of Chinese Academy of Sciences, he specially emphasized that: Our country is urgently needed to build up a national sensing technology center as soon as we can.
On November 12th, 2009, Chinese Academy of Sciences signed the contract with Jiangsu provincial and Wuxi municipal government to co-construct the China R&D Center for Internet of Things. On December 30th, 2009, Jiangsu provincial government officials approved to establish Jiangsu R&D Center for Internet of Things. On October 8th, 2010, R&D Center for Internet of Things Chinese Academy of Sciences was approved to set up by dean official meeting of Chinese Academy of Sciences (herein after referred to as IoT Center).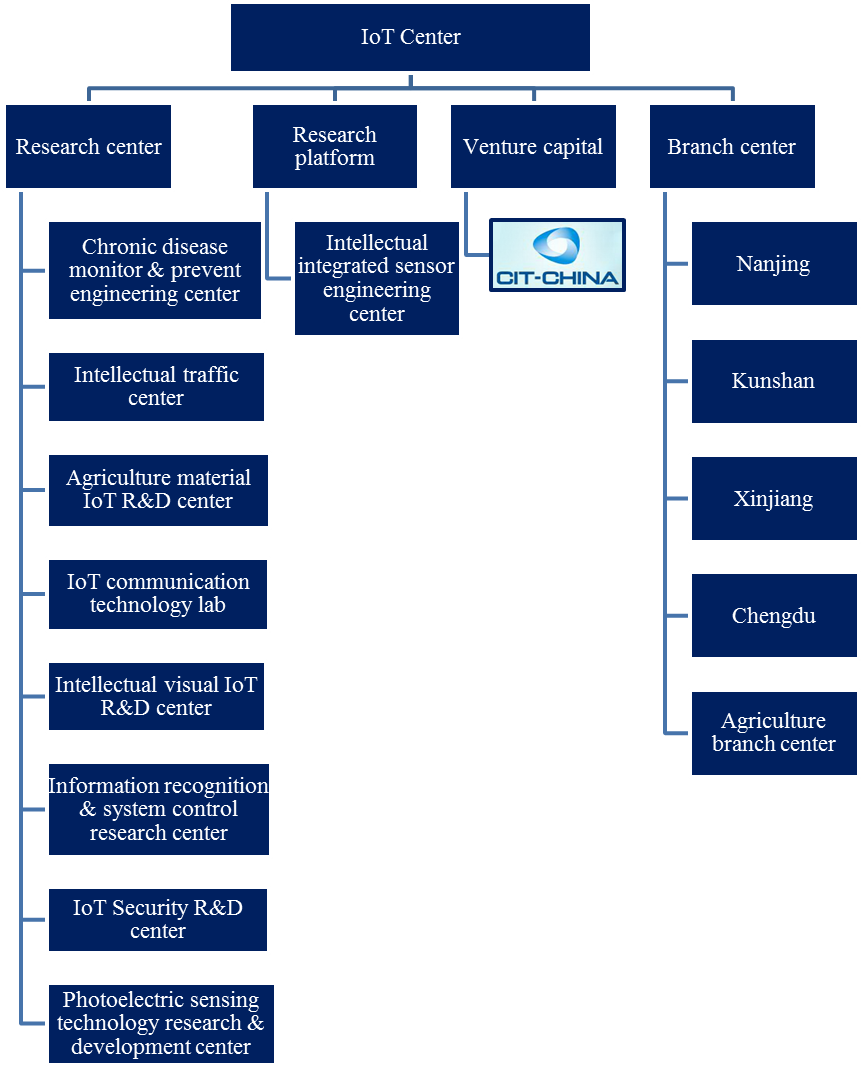 In the past few years, IoT Center set its key strategy on following topics: innovation, IoT application, public technology platforms, cultivating of IoT industry and education, etc. The center has carried out a large amount of solid work in the field of core technology research and development, setting of standard, key product research and development, technology transfer, incubating of newly-developing industry and investment. The hard effort leads to significant progress in every aspect of the work. Since the establishing of the IoT center, it has already successfully applied and accomplished around 100 national, provincial and municipal projects, being top 10 of all research institute in Jiangsu province for patent authorization amount, from which a big amount of scientific achievementwith self-owned intellectual property were generated.
IoT center insist in application-driving, innovation-motivated, market-oriented developing strategy of IoT industry. Piles of IoT application projects for demonstration were accomplished or under developing in the fields of agricultural materials, public security, intellectual industry, intellectual city, intellectual traffic and medical care, etc. More than 70 scientific research programs were transferred during past years. 31 scientific spin-offs and startups were invested and incubated so far. The total assets and five-year-income of invested and incubated enterprises is 3,000,000,000 and over 4000,000,000 CNY respectively. IoT Center takes constructing of public technology platforms as another important developing strategy for completing the industry chain, shrinking the gap between research agencies and market, which will also enhance the professional circumstance of IoT industry of the zone. IoT center has built six public technology platforms, including fields of devices, chips, module, software, system, intellectual properties analysis, by which the main services of IoT industry chain are well covered. The MEMS public technology service platform is one of the best developed public technology platforms, in which the class 1,000 clean room and a 4,500 sq. m. Incubator was designed and constructed. IoT Center also plays the irreplaceably important role of introduction of talents for local and national IoT industry development. Many international professional elites were introduced to center in past years. Around 700 master students majoring in IoT related field were jointly educated with well-known universities and research agencies.