Black silicon is a kind of silicon material with low reflection. Comparing with conventional silicon material, black silicon exhibits strong light absorption capability and can be used in solar cells industry. Using ZnO nanowires in the production process of Black silicon solar cells can greatly enhance the efficiency. This innovative technology was invented in the Microwave Devices and Integrated Circuits Department of the Institute of Microelectronics of Chinese Academy of Sciences (IMECAS).
In view of the excellent electrical and optical property and high carrier mobility of ZnO nanowires, the researchers applied the technology of ZnO nanowires to black silicon solar cells. The lateral-contacted ZnO nanowires were grown in the gap of silicon nanostructures which can promote the transverse transport and collection of photogenerated charge carriers. This effectively reduces the contact resistance and improves the efficiency of the battery.
Test results of ZnO nanowires black silicon solar cells I-V characteristics, spectral response and quantum efficiency show that the ZnO nanowires embedded did not change the good light trapping properties of the black silicon solar cell, and improved the electrode contact and carrier transport properties. Besides, ZnO has the advantages of low cost, simple preparation process, and good compatibility with the existing crystalline silicon cell technology. The research team in IMECAS is trying to use this innovation to the research of efficient back contact and heterojunction back contact cells.
The research results have applied for national invention patent (patent number: 201310123551.2). The study has been published in Applied Physics Letters.(Fabrication and properties of ZnO nanorods within silicon nanostructures for solar cell application, Appl. Phys. Lett. 106, 053118 (2015))
This project was supported by the National High Technology Research and Development Program of China and was assisted by Shenzhen Yingli New Energy Resources Co., Ltd.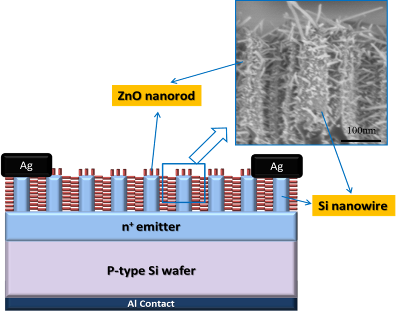 Figure 1:Schematic diagram of ZnO nanowires- embedded black silicon solar cells (Image by IMECAS)
Figure 2:Efficiency comparison of internal quantum efficiency (Image by IMECAS)
CONTACT:Researcher JIA Ruijiarui@ime.ac.cn
E-mail:
Website of Dept.:http://english.ime.cas.cn/Research/ResearchDivisions/LAB4/