GlobalFoundries plans to introduce embedded silicon carbon (eSiC) to strain the nFET transistors at the 22 nm node, said John Pellerin, director of technology development. Through-silicon vias also are on the roadmap, but air gaps are not, Pellerin said prior to the groundbreaking ceremony of Fab 2 in Malta, N.Y.
David Lammers, News Editor -- Semiconductor International, 7/28/2009
GlobalFoundries (Sunnyvale, Calif.) plans to apply embedded silicon carbon (eSiC) stressors on its 22 nm nFET transistors, and is likely to use through-silicon vias (TSVs) to connect a fast SOI-based DRAM layer to a logic die, said John Pellerin, director of technology development at the IBM/GlobalFoundries Alliance in Fishkill, N.Y.
In an interview prior to last week's groundbreaking ceremony for the GlobalFoundries Fab 2 in Malta, N.Y., Pellerin said GlobalFoundries and its Fishkill partners, including Applied Materials Inc. (Santa Clara, Calif.), have largely solved the technical challenges of eSiC stressors. By moving to an in situ phosphorous doping scheme for the grown stressor layers, the researchers are able to stabilize the carbon atoms and sharply improve carrier mobility and drive current, he said.
At SEMICON West, Applied Materials touted its role in eSiC development with GlobalFoundries, including a new cleaning module for its deposition tool.
The move to TSVs is built upon IBM's work in developing an embedded DRAM in an SOI substrate. Pellerin said the SOI eDRAM has a fast access time but a relatively short retention time, requiring frequent refresh cycles.
GlobalFoundries is unlikely to introduce air gaps — a technology that IBM developed based on self-assembling polymers — in the interconnect dielectric at the 22 nm generation. "What we have found is that air gaps require cladding layers which reduce the benefits," Pellerin said. "Instead, we have developed cleaning and other techniques" that improve interconnect performance. By introducing pores to the low-k dielectrics at the 32 nm node, GlobalFoundries is able to reduce the k value to 2.4 from today's 3.0, he said.
Pellerin also said that GlobalFoundries is no longer pursuing the one-transistor ZRAM developed by Innovative Silicon Inc. (ISI, Lausanne, Switzerland), a capacitor-less design based on SOI substrates. Instead, GlobalFoundries is working on a thyristor-based memory with T-RAM Semiconductor Inc. (Milpitas, Calif.). GlobalFoundries and T-RAM announced in mid-May that GlobalFoundries would co-develop 32 and 22 nm versions of the T-RAM, which is based on SOI technology, for low-power cache applications.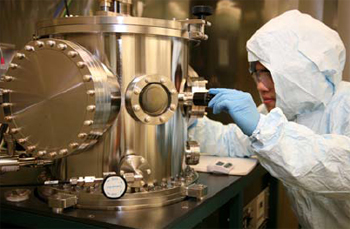 By doing collaborative R&D with IBM at CNSE in Albany, N.Y., GlobalFoundries intends to close the process technology gap with Intel Corp.

The advances on the company's 22 nm generation roadmap come as GlobalFoundries executives say they plan to catch up with Intel Corp. in terms of new process technology introductions. Intel executives told industry analysts at SEMICON West that it plans to begin 32 nm production late this year.
At the Fab 2 groundbreaking last week, Tom Sonderman, vice president of manufacturing systems technology, told reporters that GlobalFoundries "is closing the gap with Intel" on leading-edge technology introductions. "By going to a shared technology development model with IBM," he said, "we are closing the gap. We were a year behind Intel at the 45 nm node, and that difference will be cut significantly at the 32 nm generation. By 22 nm, there will be no difference. It will be in the noise level."
The 300 mm fab at Malta is scheduled to begin 28 nm bulk production for foundry customers in late 2012, and then move to 22 nm SOI technology, producing AMD's microprocessors, including a Fusion product that will combine an MPU and a GPU in 22 nm SOI technology. GlobalFoundries also will have an SOI manufacturing capability at Module 1 of Fab 1, in Dresden, Germany.
Fab 2 in New York will be a two-level building rather than the conventional three levels, Sonderman said, with all of the wafer production on the upper floor, along with maintenance shops nearby the tools. A "zero footprint storage" approach will put some wafer stockers above the tools. Implant will be located off of the main waffle slab, reducing construction costs.