Prof. Aziz Benlarbi-Delaï, Director of L2E (Electronic and Electromagnetism Laboratory) of UPMC( Université Pierre et Marie Curie), Paris, visited Institute of Microelectronics of Chinese Academy of Sciences (IMECAS) on Feb.20 and gave a lecture titled Connected System and Body. Over 40 scientific researchers and graduate students presented.
Prof. Aziz Benlarbi-Delaï briefed about the general situation of UPMC and gave a systematic introduction to three critical research areas of L2E, which are Embedded System, RF & Microwave Devices and Green Communication. He also aired opinions on the modeling and simulation in Wireless Sensor Network, Software-defined Radio and localization of Green Communication as well as some application models in Vehicle Area Network, Body Area Network etc. Following the lecture, a lively discussion on hot technical problems was launched among all conventioneers.
The visit lays a solid foundation for future academic cooperation between IMECAS and UPMC.
About UPMC:
UPMC (Université Pierre et Marie Curie or UPMC - Paris Universitas or Paris 6) is a French university, principal heir to the Faculty of Sciences of the University of Paris. UPMC is now the largest scientific and medical complex in France and ranked 40th in the World and 1st in France by the prestigious Academic Ranking of World Universities.
About Prof. Aziz Benlarbi-Delaï :
Aziz Benlarbi-Delaï is a full time Professor in Electrical Engineering at UPMC and Head of L2E. His current research interests include millimetre wave communication and localization for green radio and intelligent ambient issues.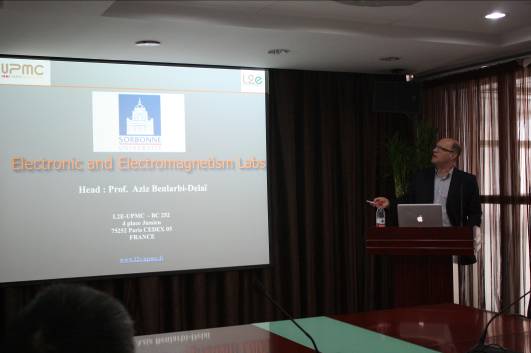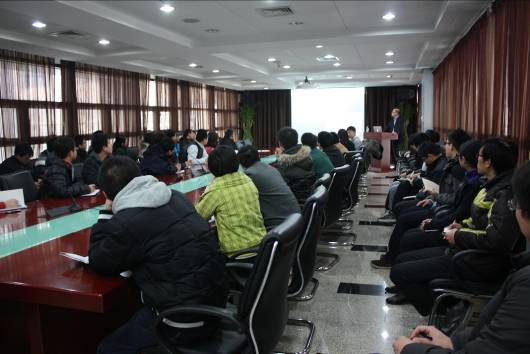 Scene Photos of the Lecture (Image by IMECAS)