A kind of MIMO-OFDM core Baseband chip for High-Speed WLAN which was designed by IMECAS-BCS of ASIC & SYSTEM of Institute of Microelectronics of Chinese Academy of Sciences (IMECAS) has been developed and accomplished the demonstration of 8-channels video transmission in late march.

The research taken by IMECAS-BCS of ASIC & SYSTEM is a national science and technology expertise program that aims to realize "New generation of Wideband Wireless Mobile Communication Net" and is supported by "National Nature Science Fund" ,"Beijing science star" and so on. The BCS team develops 2-input and 2-output MIMO-OFDM Baseband Mixed-Signal Chip BCS5731, which is integrated with four 80MHz/10bit Pipeline ADCs, four 80MHz/10bit DACs and excellent-performance MIMO-OFDM Baseband DSP, supporting 32 modes such as SDM、STBC、MRC for IEEE802.11a/g/n and achieving 130Mbps throughput. The performance and integrated level lead in domestic industry and academia and is the first MIMO-OFDM Baseband DSP chip supporting IEEE802.11a/g/n in our country.

The chip has passed the authentication of China Electrical Technique Standard Institute and demonstration of 8 channels close-loop high-quality video transmission. This technique builds up a good foundation for the research and industrialization for the IMT-Advanced (4G) High-Speed Wireless Communication chip, the next generation Very-High-Speed WLAN and medium-distance high-speed wireless communication chip, and prompts the domestic technology research and industrialization progress of high-throughput wireless communication chip.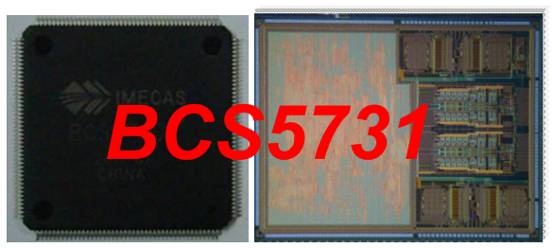 130Mbps MIMO-OFDM Baseband Chip: BCS5731 (Image by IMECAS)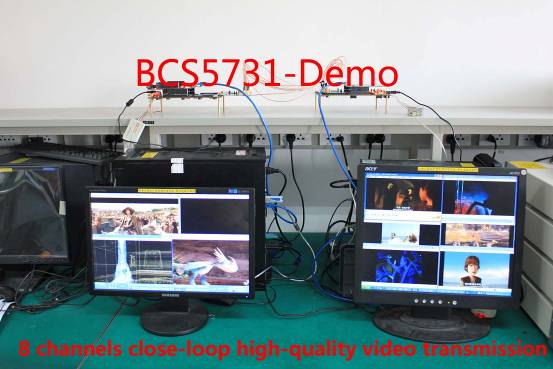 8 Channels Close-Loop High-Quality Video Transmission Based on BCS 5731 (Image by IMECAS)

DEPARTMENT CONTACT:
Researcher WU Bin
Institute of Microelectronics of Chinese Academy of Sciences
E-mail: wubin@ime.ac.cn
Website of Dept.:
http://english.ime.cas.cn/Research/ResearchDivisions/LAB2/