MA Tianyu, a Ph.D. student from the Institute of Microelectronics of Chinese Academy of Sciences (IMECAS), won the championship in the final stage of the Seventh Annual International Microelectronics Olympiad of Armenia held in Armenia on Oct. 4, 2012, announced Synopsys, Inc., a world leader in software and IP. It is the first time that the championship falls on China.

Co-held by Synopsys and the Institute of Electrical and Electronics Engineers (IEEE) Test Technology Technical Council (TTTC), the Olympiad attracted contestants from 14 countries, who have competed in the areas of digital IC design and test, analog and mixed-signal IC design and test, semiconductor devices and technology, and mathematic and algorithmic issues of electronic design automation (EDA).

In the first stage of China, Ma Tianyu got the first place of the competition held by the EDA Center of Chinese Academy of Sciences during September, outperforming 54 participants from 15 top universities in China. He is the only representative for China that has processed into the second, also the final stage.

Initiated in 2006, the Olympiad aims to highlight the brightest, most talented engineers under the age of 30. The goals are to stimulate further development of microelectronics in Armenia and in the participating countries by: recognizing and inspiring talented engineers; increasing interest in microelectronics among young specialists; discerning the level of knowledge of participants in the field of microelectronics; and creating a community of young specialists involved in microelectronics.

MA Tianyu received the B.S. degree from the Department of Physics, University of Science and Technology of China in 2009. He is currently pursuing his Ph.D. degree at IMECAS. His current research interests include theories and models of chemical mechanical polishing process and dummy fill in integrated circuits.

The Second Stage Competition Live (Image by IMECAS)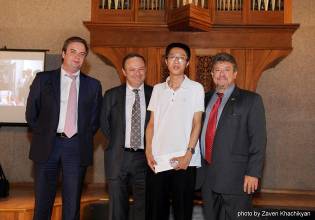 MA Tianyu Awarded by the Organization Committee (Image by IMECAS)