On January 14th 2014, Prof. Steve S. Chung from the National Chiao Tung University of Taiwan (NCTU) visited the Institute of Microelectronics of Chinese Academy of Sciences (IMECAS). With Prof Ming Liu's arrangement, he delivered a lecture entitled "The Logic CMOS Process-based SONOS Memory" in IMECAS hosted by Prof. Ming Liu, the director of Lab of Nanofabrication and Novel Device Integration Technology. There were more than 30 attendees of local professionals and graduate students.
Prof. Steve first introduced the concept of using SONOS-typed concept for OTP, MTP applications. Various developments of the OTP cell in the past will be described. Then, a real example on a CMOS process compatible SONOS-typed cells with 2-bit per cell capability was demonstrated. Finally, the operation schemes and cell reliabilities were addressed. The new points of his research on the logic CMOS process-based SONOS memory made a big splash and reached a wide discuss.
After the lecture, a symposium was held with the attending of researchers from the Laboratory of Nanofabrication and Novel Device Integration Technology of IMECAS, both sides introduced their recent works and had an effective discussion.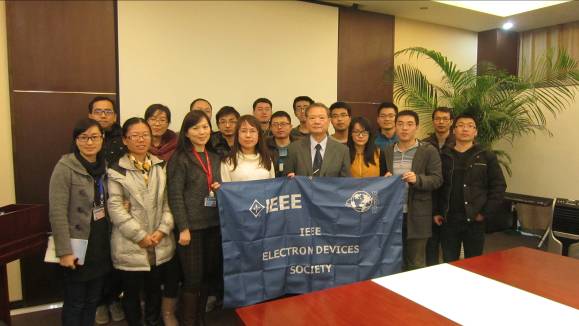 Prof. Steve S. Chung (Lecturer, First row, 5th from Left), and Prof. Ming Liu (first row, 3rd from left) with Local Professionals and Graduate Students (Image by IMECAS)