Electronic control technology is one of three core technologies of new energy vehicles directly affecting vehicle performance, including vehicle control, battery control and motor optimization. It demonstrates the level of a country's automobile manufacturing industry.
Recently, scientists from New Energy Automotive Electronics R&D Center of the Institute of Microelectronics of Chinese Academy of Sciences developed China's first vehicle electronic control integrated system. It filled the gap in electronic control, information and intelligence of China's new energy automobile technology.
This system has an integration of information collection, intelligent control, convenient control and centralized display. It provides the access and management of vehicle data, car networking cloud service platform for collaborative processing and remote configuration.
Breakthrough is made in key technologies like custom powertrain, power precision control, information instruction interaction, integrated network, cognitive computing and visualization. Functions like energy management, dynamic configuration for dynamic system, intelligent control, visual management, remote data analysis and online configuration are achieved.
This system is first applied in the fifth generation new-energy bus of Anhui Ankai Automobile Co., Ltd, and is front-installed in seven models from three vehicle factories.
This work was supported by "The Next Generation of Information Technology for the Perception of China" of CAS Pilot Project.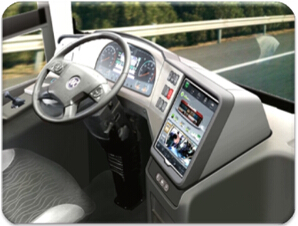 New Energy Vehicle Electronic Control Integrated System (Image by IMECAS)
CONTACT:
Researcher CHEN Jie
E-mail: jchen@ime.ac.cn