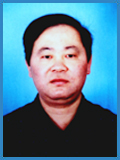 NAME:DU Huan(Master Director) :duhuan@ime.ac.cn:Associate Professor

Email
Title
RESEARCH INTERESTS:
Driver circuits of MRAM, Driver circuits of Flat Panel Display, Power Devices
EDUCATION:
Post Graduate: Institute of Physics, Chinese Academy of Science
Degree: Doctor
Major: Condensed Matter Physics.
Studying abroad: 1999.12-2002.9 post doctor in Plymouth University UK
PROFESSIONAL EXPERIENCE:
Dec.1999—Sept.2002. post doctor in Plymouth University UK, research on record head of magnetic film and soft magnetic materials with high moment.
Sept. 2002—present. Associate professor, works in dept. of silicon devices and IC research & development. Research on driver circuits of Magnetic RAM, driver circuits of flat panel display and power devices.
RESEARCH ACTIVITIES:
2002—2006, "973" program, "spin electronics materials, magnetism and fabrication of devices",cooperation with institute of physics,
2003—present, undertaking "973"program"basic researches on novel field emission flat pane display and microdisplay technology", cooperating with Zhongshan University.
2005-present, "973" program "the novel principle and method of precision microminiaturization and digitization of high performance electronic products", cooperated with Tsinghua University.
2006-present, director fund supported by IMECAS, "research on SOI RF LDMOS power devices and its integrated technology".
PUBLICATION:
(1)Fabrication of Submicron Trackwidth Thin-film Head and its Inductance-Saturation Characteristics
J. Magnetism and Magnetic Materials 279(2004)59-63.
(2)Pt/Co Mutilayer Dots Array Patterned by laser Interference and Investigation of Its Magnetic Domain Structure. 2003 12th National Conference on Electron, Ion, and Photon Beam Proceedings, 321(2003)
(3) Investigation on Interface Planarization of Driver IC for Storage Cells of MRAM. Journal of Semiconductors, 2006, Vol.27, No.12, P358-360.
(4)The effect of substrate-bias and magnetic annealing on soft magnetic properties of rf-sputtered Fe49Co49V2 films. J. Appl. Phys. 91 (10): 7827-7829 Part 3 MAY 15 2002.
(5)(FeCo/Co-M)n soft magnetic multilayers with uniaxial anisotropy and very high saturation magnetization. J.Appl. Phys. 93(8):5498-5502 MAY 2003.
(6)Fabrication and Properties of Nb/AlO-AlOx/Ti Junction For Microbolometers and Microrefrigerators. Appl. Phys. Lett. 72 ( 1998 ) 3062-3064.
(7)Tunnelling Studies of Nb/Al Superconducting Proximity-effect Bilayers. Physica C 282-287 ( 1997 ) 2445-2446.