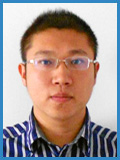 Name:AN Yong
Gender:Male
Title:Associate Professor
Nationality:P.R.China
Education:Ph.D.
E-Mail:anyong@ime.ac.cn
Department:Electronics System Technology
Address:3 Beitucheng West Road, Chaoyang District, Beijing, PR China
Postcode:100029
Education Background:
2001.9-2005.7 Xidian University, Bachelor, major in Electronic Science and Technology
2005.9-2010.7 Institute of Microelectronics of Chinese Academy of Sciences, Ph.D., major in Microelectronics & Solid State Electronics
Professional Experience:
From 2010.7 to now, work in the "Department of Electronics System Technology"
Research Interests:
Wireless Sensor Network
Wireless Communication
Publications:
A Method of Generating the Self-balanceable Chaotic Spread-Spectrum Code. An Yong, Mu Rong-zeng, Cao Xiao-lin, Yan Yue-peng. HIGH TECHNOLOGY LETTERS, Vol.17 No.1 Jan. 2011.
Adaptive Non-coherent Integration and Threshold Strategy for Acquisition. An Yong, Mu Rong-zeng, Yan Yue-peng. Journal of System Simulation, Vol.23 No.4 Apr. 2011.
The RTL Implementation of a Punctured Convolutional Coding and Decoding. An Yong, Mu Rong-zeng, Cao Xiao-lin, Yan Yue-peng. MICROEL ECTRONICS & COMPUTER, Vol.25 No.8 Aug. 2008.
Design of Shaping Filter for Base-band Signals Based on Multi-interpolator. An Yong, Mu Rong-zeng, Chen Jia-guo, Yan Yue-peng. Communications Technology, Vol.41 No.05 May 2008.
Patents Application:
A Hybrid Spread Spectrum Communication System: Principle and Implementation. An Yong, Mu Rong-zeng, Yan Yue-peng. (200910303432.9)
A Two-order Capturing Method for Frequency-Hopping Spread-Spectrum Communication Systems: Principle and Implementation. An Yong, Mu Rong-Zeng, Yan Yue-peng. (200910091008.2)
A Spread-Spectrum Code Constructing Approach: Principle and Implementation. An Yong, Mu Rong-zeng, Yan Yue-peng. (200910087789.8)
An Infrared Sensing Device for Human Body. An Yong, Zhao Wei-guang, Yan Yue-peng, Mu Rong-zeng. (201110063378.2)
A Wireless Node for Target Monitoring. An Yong, Zhao Wei-guang, Jang Ting-ting. (201120068425.8)
An Wireless Terminal for Positioning and Alarm. An Yong. (201130063621.1)
A Two-Wire Transform Circuit for Measurement of Luminous Intensity. An Yong, Li Yang, Mu Rong-zeng, Yan Yue-peng. (201110343090.0)
Projects and Subjects Participated:
Industry Project: Intelligent Aged Care System; Intelligent Control System for Greenhouse